In this gallery you can see photographic representation some parts of my repertoire. Gallery is constantly under updating, and please notice also that all the photos are copyrighted material. For high-res promotional photo requests, please email me at
amynjoy@gmail.com
You may also want to check a my
Vimeo account
for videos of my performances or visit a my page on
Fabebook .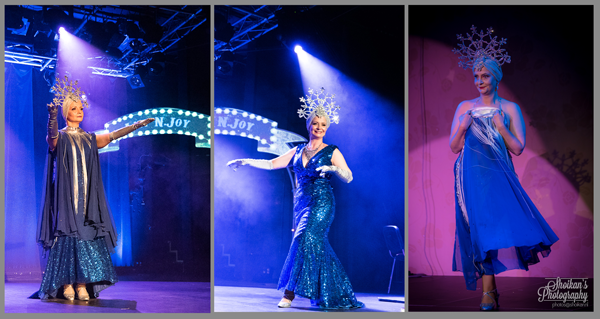 "BLUE MOON"
This is probably the most "classical" burlesque number of my repertoire so far. I wrote an introducing poem for this act because that sums the best my thoughts of this number.
In Finnish: "Yöllisellä taivaalla ihana on Kuu, joka veden pintaan heijastuu. Sen kauneus saa ihmiset hullaantumaan, kun täysin pyöreänä on muodoltaan. Sitä romantiikan helmeksi turhaan sanota ei, kun kuun loisteessa rakkaus syttyy, se mennessään vie."
In English: ""Beautiful moon in the sky at night, On water the moonriver reflection.
People enchanted by the light, Moon showing it's full round perfection. It's called Queen of Romance, and make no mistake. When love's born under moonlight, it will take you away."
English translation by
Miss Sea Breeze
Moon, Blue, Silver, Sequins, Romantic, Feminine."Old School/Classic". Duration: 4 min.
Original photos by Johanna Sandborg and
Shoikan´s Photography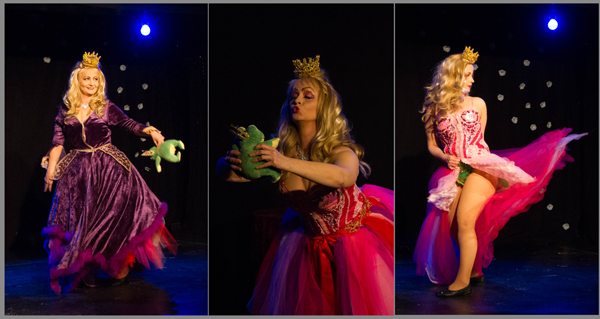 "THE FROG PRINCESS"
Remember that fairy tale of princess and frog prince? When once upon a time only a kiss from princess could break an evil spell and
turn frog back to a human prince - right? Here has princess found the frog and she is so thrilled about it..
Finally she will have prince and get married, it is now just a kiss away... Only that on this " burlesque fairy tale" is naturally some totally different end with "hoppily ever after".
Funny and colorful neo burlesque act, still having a deeper thought or lesson to understand in the the end. Duration 5 min.
Original photos by
Antti Viitakangas Photography.
"THE BLACK WIDOW"
(Spider Woman)
This act got inspired by
nature
and fictional crime stories of unsolved murders.
In the beginning, a rose is representing this widowed lady´s deep sorrow for her beloved husband.
She is heartbrokened and griefing, Oh why did he leave her all so sudden? And how did he die? Haunting questions that may have their answers in the end, revealing dark secrets of this "Black Widow". And yet - nobody knows for sure...
Film Noir, Crime, Spider, Neo Burlesque. Duration 5 min.
Original photos by Ville Ruusunen
"THE FELINE" (Kissamainen)
In this number music is exceptionally in Finnish. Imagine cold winter night where a lady comes looking for shelter from snow storm. Slow and cat like movements, hint of a danger and strong feminity feeling. Woman whom comes and goes as she pleases, teasing and leaving you graving for more. Like cats are by their nature.
Film Noir, 20´s, Cat Woman, Boots, Boa, Neo Burlesque with classical elements. Duration 4.40 min.
Original photos by Arto Lofgren
Main photo by Atelieri O. Haapala